Date: 08/05/2011
Video still image and the actual video of three male and one female monarchs nectaring gregariously on Aug. 5, 2011 along Hwy 59 four miles south of
Brooks, Minnesota (northwestern Minnesota). This gregarious nectaring where males display no interest in mating and where both sexes have a slow wingbeat frequency is behavioral proof these butterflies are in reproductive diapause and have already begun the southward migration to the overwintering sites in Mexico. It is interesting to note that this diapause occurs reliably every year during the first week of August at latitudes near or above 48 degrees North despite the fact that the milkweeds are still in good condition (still often flowering and still have healthy green leaves) and the fact that neither day or nighttime temperatures have declined in recent weeks.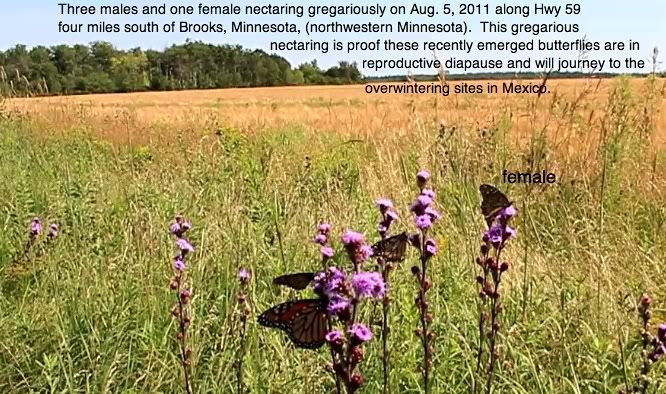 Observed by: Paul
Contact Observer
The observer's e-mail address will not be disclosed.
Contact will be made through a web-based form.